I started working with coffee by accident, like many at that time in Russia. The fact is that in 2002 in Russia there was almost no knowledge of the barista profession, and coffee drinks were prepared by any regular bar staff. I studied at university and in the second year I decided to get a stable job that would interest me, give me financial independence and would not greatly interfere with my studies. I knew a lot of people who worked in bars and saw how they dropped out because of the nightlife, so I didn't want to go to work as a bartender. I preferred the prospect of working with coffee. So, by chance, I got into the coffee world.
For me, coffee was just something mysterious; as a child, my mother often made coffee in cezve. The fondest memories of coffee were preserved in my student days, when I wasn't particularly versed in the processes of making coffee. I would brew it in a cezve with sugar and spices, then go out onto the balcony to enjoy a Siberian frosty morning with a hot aromatic cup of coffee.
FOR ME, COFFEE WAS JUST SOMETHING MYSTERIOUS; AS A CHILD, MY MOTHER OFTEN MADE COFFEE IN CEZVE.
Since then my taste has changed a lot. At one time I drank Americano with milk, then it was cappuccino. I remember the times when I forced myself to drink black coffee, without additives – a filter and espresso. Now I actually prefer espresso and I add only add milk when I need to adjust the mix of milk and espresso in cappuccino.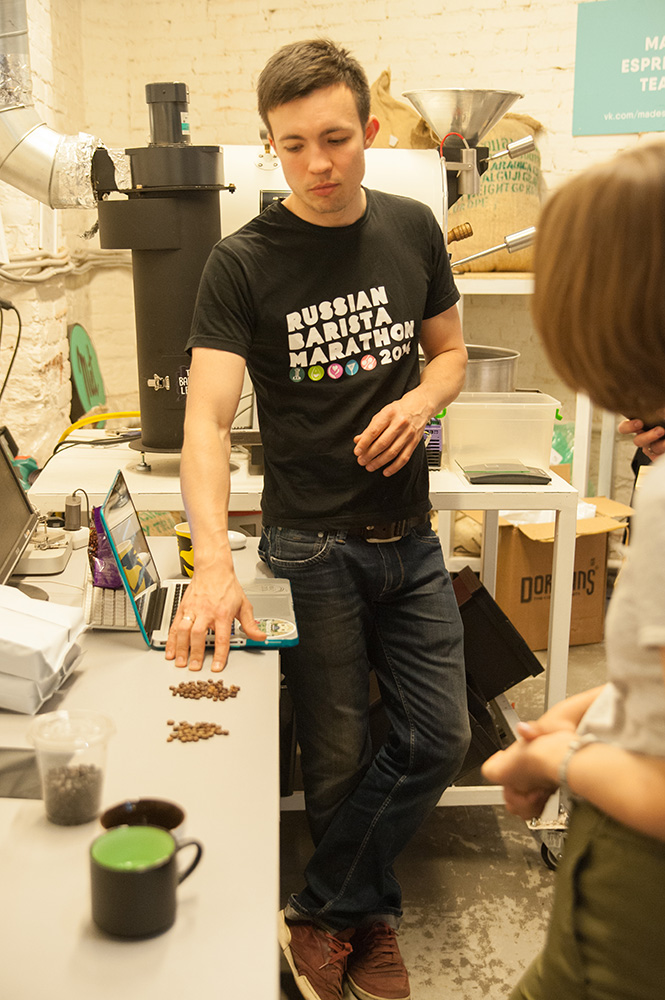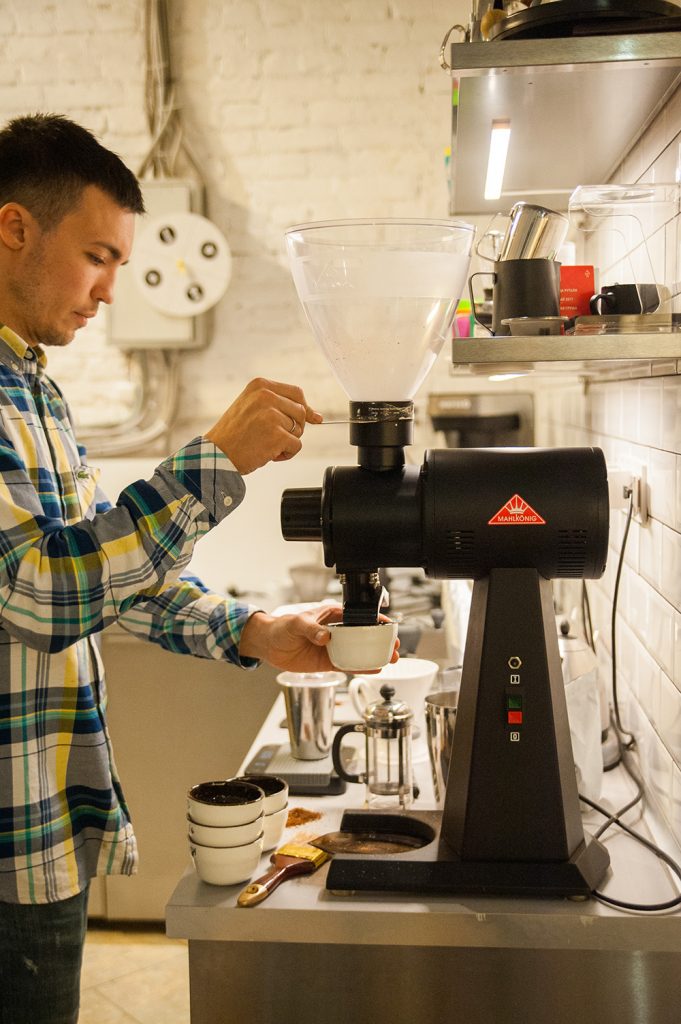 OVER TIME, I BEGAN TO PAY MORE ATTENTION TO THE TASTE OF COFFEE, RECOGNIZING MORE SHADES AND TRYING TO INFLUENCE THE TASTE OF GRAIN IN THE DRINK.
For the first 4 years I perceived working with coffee as a part-time job, but after graduating from university (I studied to be a social psychologist), I decided to not give up on this area and continued to improve on it. At the beginning, I was very interested in latte art, I felt like I was doing something more complicated and interesting every day. But over time, I began to pay more attention to the taste of coffee, recognizing more shades and trying to influence the taste of grain in the drink. Making it even tastier.
MY WHOLE LIFE IS SOMEHOW SATURATED WITH THE "AROMA" OF COFFEE.
In 2006, I moved to Moscow and from that moment began my professional career. For three years, from an ordinary barista, I worked my way up to become the head of a bar of chain coffee houses. I participated in SCAE championships and became the champion of Russia in the category of "Coffee in Good Spirits", I was also awarded second place in Latte Art.
Later I went on to judge the regional and Russian barista championships, being the head judge several times. For 9 years I was a judge at the national barista championships.
In general, my whole life is somehow saturated with the "aroma" of coffee. I plan trips to other countries so that I can visit local coffee shops.
I always taste coffee in new establishments and new countries. This broadens my understanding of coffee.
The longer I work with coffee, the more I become convinced that almost all variables affect the taste of the drink – the grain itself (country, region, processing method), the method of preparation, water and its composition, the quality of grinding and the recipe. In the learning process, I tirelessly repeat all the main variables that can affect the taste of a drink, making it tasty or vice versa.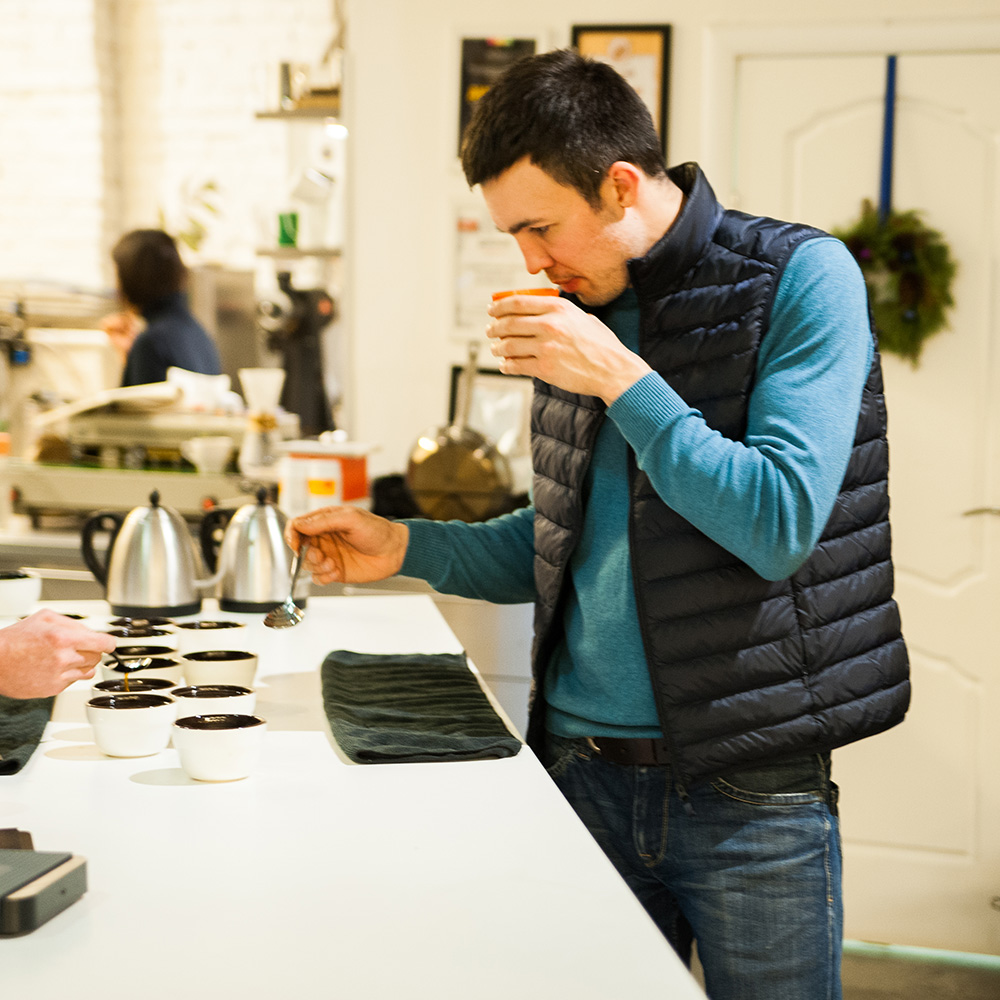 WHAT INSPIRES ME MOST OF ALL IN MY WORK IS THE JOY OF PEOPLE WHEN THEY GET A NEW TASTE EXPERIENCE, LEARN OR DISCOVER SOMETHING NEW.
I confess only to you: when I make coffee for myself, I can be lazy. My wife complains that at work I am strict and pedantic, but at home I can forget to set a timer or not measure the temperature of the water.
What inspires me most of all in my work is the joy of people when they get a new taste experience, learn or discover something new. I remember for a long time, working in a bar, I was fond of latte art, and when I did a particularly good drawing, I watched the reaction of the guest when the waiter brought him the cup. Often people, not paying attention to the drawing, just drank coffee, but there were times when the guest smiled, looking at the cup. It would stay with me all day.
Now I have delved into the understanding of the taste and processes of making coffee, it makes me happy when the guests describe the drink in similar terms as I would describe it myself. This suggests that we are moving in the right direction, that our guests are developing and their provision of coffee is developing. Now they can describe it through the terms of balance, acidity, body and flavor.
MY MAIN MISSION HAS ALWAYS BEEN THE PROMOTION AND DEVELOPMENT OF COFFEE CULTURE.
I always liked working in a bar, I especially liked working in coffee houses, where there were many guests. The high pace really energizes me. I really like to immerse myself in the coffee making process, tracking all of the processes that are happening around me. By constantly improving my technique, removing unnecessary movements and raising coffee standards, I successfully increased my professionalism. Now I share this knowledge with others.
My main mission has always been the promotion and development of coffee culture. Any event or action that helps people learn more about coffee has inspired and encouraged me. I am always ready to tell people everything I know about coffee.
MY PASSION FOR COFFEE ALLOWS ME TO GIVE KNOWLEDGE TO STUDENTS IN A SIMPLE AND EASY WAY, WITH AN APPROACH TO EVERYONE.
Every serious barista, once they have reached a certain professional "ceiling", sooner or later faces a choice – in which direction they will further develop. Roasting, sourcing, education, sales, running a business, social activities. I chose to be a barista trainer. My passion for coffee allows me to give knowledge to students in a simple and easy way, with an approach to everyone. For 7 years I trained more than 400 people.
I like to organize events. In 2010, I began to organize the first amateur barista championships. In 2013, I created the Russian Barista Association, within which myself and my team organize regional and national barista championships. The association has a Barista School, as well as a youtube channel where I share everything I know about coffee. In addition, I work in a large company, I am responsible for the selection and quality of coffee for the entire network and other projects of the company.